Welcome to the May Day edition of Change of Shift where we will be exploring the different origins of this day across the world and what is more linking (sometimes tenuously) to some great nursing (and medical) blogs along the way. Sean from Nurse Sean (dot) com set the bar extremely high in the last edition with his tour around Europe, so lets see if we can go some way to matching his standards (do you sense a competitive edge here?)
There are two distinct themes or origins for May Day which will become clear in the fullness of time, and it gives me the chance to start off with some of the more light hearted and frivolous stories that I have to share with you and then to move onto the more serious and thought provoking.
Did you know that May Day (1st May) has been celebrated since ancient times to welcome in the end of winter in the northern hemisphere and to rejoice in the first day of summer. May day was traditionally famous for dancing around the maypole and for celebrating the Queen of the May. So let us celebrate this time of year with some great posts from the Blogsphere.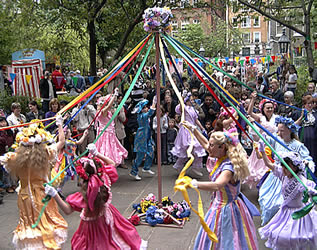 Mother Jones suggests the use of a book she has found called The Joy of Yiddish as a way of managing some of your more difficult patients (and managers for that matter). In her post Yiddish for Nurses she gives us a wonderful sample of the ways in which you can sound as if you are complimenting people when just the opposite is true.
What nurses probably need in preparation for both their work and for dancing around that may pole are stretching exercises. Revitals.com has some information for us on how you can attend to those personal fitness needs, how we can prevent injury and prevent stress too. It would take more than a bit of stretching to allow me to get into the position shown on the post in question!
Heather Johnson at Student Nurses' Notes gives us 5 very useful ways to reduce stress. Of course you might be given a May posy, or you may be crowned King or Queen of the May (I'm not holding my breath either) but failing that you will find Heather's post helpful in managing this problem of our times.
My research into the origins of May Day (don't worry I didn't get much further than Wikipedia!) puts me in mind of some of the Urban Legends that are part of any healthcare organisation. Max from It Shouldn't Happen in Healthcare offers up some examples of the types of things that new staff has allegedly shown their naivety by doing. We have all heard of the student nurse collecting the false teeth of an entire ward for cleaning and then not knowing from which mouth they came, but would any of us ever own up to actually do such a thing?
Nursing Blogs on Nurse Connect offers a post about how nurses can be more environmentally friendly. An important issue for everyone, particularly when it comes to saving energy along with the environment!
Have you ever longed for just one internet site where you can find just about all the information you need about nursing? Well that site is out there, at RN Central.com and what is more it offers 100 really useful websites for nurses. Its one drawback is that Lifeinthenhs is not deemed worthy of inclusion, but I am not bitter, honest.
Kim from Emergiblog tells us why RN to BSN is the way to go. As someone who last year completed a Masters and has a Bachelors in Nursing after many years as a bog standard ordinary (but of course excellent) nurse I completely agree with her sentiments. The knowledge that you gain about the professional and theoretical aspects of nursing are invaluable in making those links which might just make you a better nurse.
It is Kim's post that I am using here as my link into the other reason why May 1 is considered an important landmark date across the world. This is because May Day is a celebration day for workers, it commemorates the fights that have gone on in the past for rights like the 8 hour working day. I know that not all of us work an 8 hour day, but actually in days gone by it was the norm not the exception to spend most of our waking lives at work. It is true that the communist countries tended to high jack the day for parades of national strength, but with the end of the Cold War, that is hopefully behind us. The USA and Canada no longer celebrate this day on May 1, but many countries particularly around Europe still do. The best bit for me (call me a mercenary) is that we get a day off on the Monday closest to May Day.
May 1 is a day for international celebration of the social and economic achievements of the labor (or labour since I am English) movement. The struggles that our predecessors have had in ensuring that workers are well trained and educated, that we have those holiday / vacation times and that our working conditions are safe and pleasant are remembered. This is not to say that there aren't challenges out there for us as workers and for us as people who need to advocate for our patients (Julie jumps off her soap box at this point and returns to the point).
I am not sure that the level of violence some nurses come across in their workplace was really part of the deal. Mother Jones, in her second offering for this edition of Change of Shift tells of a harrowing tale of just such violence by a patient against several nurses. Often linked to the issue of violence is that of consumption of alcohol by those who use health services. Braden from 20 out of 10 tells just why he hates alcohol
In a further story depicting our violent society, Jen from RN Again?! tells us about her last EMT clinical which saw the admission of a patient with a self inflicted gunshot wound.
Congestion in and around the ER is a major cause of frustration for patients and professionals alike. Waiting times are something that have challenged hospitals in the UK and trying to ensure that people don't wait during times of high volume that cause problems around the world. Ian Furst of Wait Time and Delayed Care, examines how EMS crews in Edmonton Canada are being used to treat patients who cannot actually get into the ER. Not surprisingly this leads to delays for patients who subsequently call 911.
Nurses have made great progress in developing their careers and in being recognised as people who with the correct development opportunities can examine patients, diagnose and prescribe. After completing her Nurse Practitioner course and getting herself that dream job, Nurse Practitioner Saves Lives is understandably frustrated by the pharmaceutical companies who imply in their adverts that the only person who can give advice to the public is a doctor. NP Saves lives would like you to sign up to a petition to get that kind of advice changed.
Nursing is not the kind of thing you can just learn in a classroom, clinical practice is an important part of nurse education. The trouble is that as part of that process you have to learn about bodily fluids and gases! Our student at Nursing School Insanity: Whats a perineum (you can find out the story behind the title on the site) tells us about Flatus (which is something you wouldn't think to call it if you hadn't started that nurse training). 'Floating' seems an increasingly common way of redeploying people around different departments. But if you are a 'float nurse' then you are continually needing to update your skills, continually feeling like a student. This post called A fish out of water, on Nurse Connect looks this topic which has also been discussed on Nursing Voices, and will I think increasingly be something that worries nurses now that managers seem to seek the most mobile and flexible workforce possible.
The way in which we as nurses communicate with our patients is vital, and with our aging society it is highly likely that many of those patients will be elderly. This Nurse Connect post offers advice on the things we need to consider in communicating with this group of patients. Those elderly patients are just the group of people who have fought hard to achieve the kinds of rights we take for granted today. Dignity and respect are something we all expect, yet only too often some of us don't seem prepared to offer. My own post about this subject asks whether this is a reflection on society, and wonders why we need to teach this topic, and Nursing Blogs on Nurse connects looks at how we address our patients – would you call any patient 'honey bunny'? No nor would I!
It is about 18 months since I last hosted Change of Shift. I am heartened to find that the nursing blogsphere remains a healthy place, even if some of the work our colleagues are doing out there is difficult and challenging. We still have our sense of humour, we can still laugh at ourselves and what is more we are true to our origins both in terms of dancing around that may pole and in respecting those who campaigned for the rights we take for granted now.
The next edition of Change of Shift will be on Thursday 15 May at Parallel Universe, when Dr Emer will be our 3rd MD host. You can submit your posts via the blog carnival icon on Kim's blog at Emergiblog, or by sending directly to Dr Emer: doc(dot)emer(at)gmail.com